42nd Annual Davis Bike Club 4th of July Criterium
4 JULY 2018 – Davis, CA
NCNCA District Elite Men's & Elite Women's Criterium Championship Race* Women's Series Race – Juniors Series Race – BikeReg Premier Series Race – Masters Premier Series Race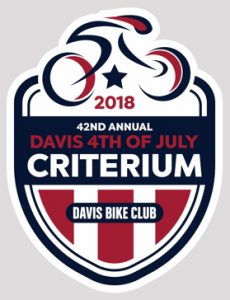 Registration: Online registration at TimeYourRace. Additional $10 charge for day-of entry. Each additional race entered is $15. Entry fee includes USA cycling ($3.75) and NCNCA ($1) surcharges. Registration on race day opens at 6:30 AM and closes 15 minutes prior to the start of each race. Event held under USAC rules and permit (#2018-1378). All racers required to sign standard release forms and Juniors must have parent/guardian signature. Parent/guardian signature also required for all children (9 y/o and under) participating in the free non-competitive Kids Fun Ride. One-day license ($10) available to Cat 5 only. Proof of category above Cat 5 required, as is current 2018 USAC license. Online registration closes Monday, 02 July 2018 at 6 pm (Pacific Time). No refunds.
NCNCA Elite Criterium Championship Races (M P/1/2 & W P/1/2/3): To be eligible for a championship race medal, a rider must hold a current USAC annual license, be a US citizen/permanent resident (green card), and reside in the NCNCA District. Members of UCI road teams and out of district residents are not eligible for a championship medal, but are able to compete in the race for the listed prizes.
Course Description: The Classic course. 0.7 mile L-shaped loop in downtown Davis. Counterclockwise loop with five 90-degree left turns and one 90-degree right turn. See map below. Start/finish at 3rd & F Street, and registration location on 3rd Street behind the stage.
2018 Criterium Official Race Flyer
Check out the winners jersey: