Overview of the 2019 Davis Double Route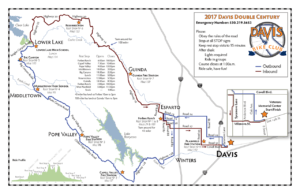 This information is tentative and subject to change up to ride day. The final route will be given to you when you check in for the ride.
The 2019 ride starts from the Veterans Memorial Center located near  the intersection of 14th and B streets in Davis. From there, the route leads north out of Davis then heads northwest through Central Valley farmland toward Esparto and the first rest stop at Forbes Ranch. From there, the course heads south to Winters before turning west into the Vaca Hills and Napa County.
Riders encounter their first climbs of the ride on this stretch, climbing up to Monticello Dam and over Cardiac Hill. Not long after, riders will reach the second rest stop, in Capell Valley. The route heads north along this stretch through rolling hills along the eastern edge of Napa Valley to the third rest stop, in Pope Valley. The route becomes somewhat hillier as it continues north into Lake County. Then the road flattens out for the approach to the fourth rest stop, in Middletown, around Mile 94.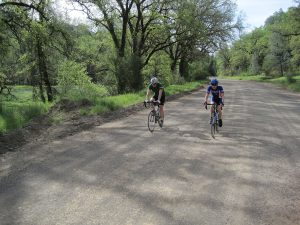 After Middletown, the route heads up scenic Big Canyon. Four miles of this road are hard-pack dirt, perfectly suitable for riding. The ride throughout the dirt stretch is a very gradual grade with small, gentle rollers. After a water stop in Big Canyon, the route turns east onto Seigler Canyon Road and Highway 29 to the lunch stop at Lower Lake High School in the town of Lower Lake.
From Lower Lake, riders head north on Highway 53, then east onto Highway 20. This road leads to another rest stop and the long climb to the top of Resurrection, and finally, to a long, fast descent to Highway 16 and the Cache Creek Canyon. The route runs south through the canyon into the beautiful Capay Valley and the rest stop at Guinda.
From Guinda, the route continues south past the Cache Creek Casino to Esparto, and soon after, Forbes Ranch (the same stop as rest stop 1). From Forbes Ranch, the route zig zags southeast through farmland to the last rest stop in West Plainfield. From here, it is a short 8 miles to the finish in Davis.
The Ride with GPS map for the 200 mile route is here. The route is tentative pending final permit approval from the counties. Feel free to upload this route to your navigation device with the caveat that road or weather conditions may force us to change the route at the last minute. You'll receive the official cue sheet in your rider packet.