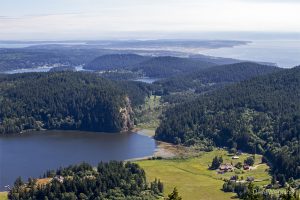 Our fourth, but now expanded tour of the San Juan and Gulf Islands archipelago is August 5 to 16, 2017, within a narrow window of best weather. Chosen for good ferry connections with the other islands, our three fixed bases have excellent lodging and dining.
Starting Saturday afternoon, August 5, we stay for two nights in Anacortes, Washington on Fidalgo Island. The second day, our options include the renowned Anacortes Arts Festival and a tour south to Whidbey Island. On the third day, we sail to Friday Harbor on San Juan Island, our base for the next four nights. Cycling here is excellent, besides possible day tours to Orcas, Lopez, and Shaw Islands. Many will enjoy the challenge of the 2400-ft Mt. Constitution on Orcas Island.
On the seventh day, Sidney, Vancouver Island BC becomes our base for five nights. Nearby are Victoria and Butchart Gardens, as well as BC ferries for day trips to the Gulf Islands including Salt Spring, Pender, Galiano, and Mayne. An early afternoon sailing back to Anacortes on the twelfth day concludes the tour. Anacortes is 820 miles from Davis on I-5. If you fly, Anacortes is served by a shuttle from Sea-Tac. At Friday Harbor and Sidney, a short walk with your rolling bag or backpack leads to our lodging. Being "fixed base" you may ride wherever or whenever and as much or as little as you wish. On the islands we will have no sag.
The cost, subsidized by DBC, $975includes two nights in Anacortes, four nights in Friday Harbor, and five nights in Sidney BC, with double occupancy in upscale lodging. Extras include meals, ferry fares, and other incidentals. Singles please sign up with a roommate. Your deposit of $200 each holds space on the tour. The balance is due in mid-May, when we have a get-acquainted tour meeting. Valid passports are required for travel to and from Canada, although the six-month rule is not enforced. A significant change in the current exchange rate (0.75 USD = 1 CDN) may alter the final cost.
Now officially open for signing up, we hope you'll join us for this popular bicycling tour! Priority will be based on the order of receipt of deposits, followed by a waiting list. Please let us know if you have any questions. Checks payable to Davis Bike Club should be sent to Bruce and Marilyn Dewey, 1614 Van Damme Drive, Davis CA 95616. For questions, please contact deweyms@hotmail.com.