When:
2022-06-03T08:00:00-07:00
2022-06-03T08:15:00-07:00
Where:
Westlake parking lot
1260 Lake Blvd
Davis, CA 95616
USA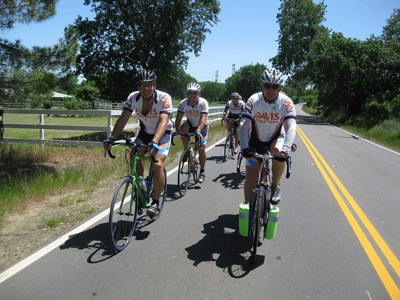 Friday Dixon Donut ride, meets at Westlake center parking lot. There will be 2 routes available, The longer 30 mile route is for the riders that prefer a faster pace, the shorter 26 mile route is for those that prefer a relaxed pace.
The faster group will probably ride 18-20 mph most of the time, while the relaxed pace will be more in the 14-16 mph range.     The pace of the ride is determined by the riders that show up for the ride.
Both groups will start together, and the first 4 miles along the Russell bike path should be a relaxed pace for everyone.  General bike path etiquette on speed is 15 mph or below.   Both groups should arrive near the same time for break at Solano Bakery.
Dixon donut short            Dixon donut long
Cycling has inherent risks and any cyclist taking part in a DBC ride releases DBC from any liability.  Guests are welcome to ride with DBC for one ride. For subsequent rides, you must be a member of the Club.  By riding with a DBC group ride you acknowledge that you have read and understand this. Helmets are required on all rides.