When:
May 17, 2021 @ 7:00 pm – 8:15 pm
2021-05-17T19:00:00-07:00
2021-05-17T20:15:00-07:00
Special for the Davis Bike Club, a tour of some of DBC's favorite rides in the Lake Berryessa region that explains why this area is one of the most geologically diverse ecosystems in the world. See the rock walls at Monticello Dam with new eyes. Show your friends the lava flow right off Cantelow Rd. and know where the heck that came from.
A captivating talk by Marc Hoshovsky, one of the authors of  Exploring the Berryessa Region, covering the geology, nature, and history of the area from Berryessa Snow Mountain National Monument to Pope Valley and Knoxville to Moskowite Corner to the Vaca Valley.
Login on Zoom: DBC Virtual Membership Meeting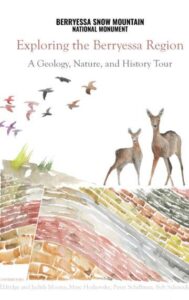 Quiz afterwards: what is that stuff hanging off the trees near Chiles Pope Valley Rd?