DBC's annual holiday party was a wonderful time to visit old friends and meet new ones, eat delicious food, and listen to great music. As usual, vice president M. Michael laid out an excellent program. Thanks to the hard working nomination committee, the club voted in a new slate of board members. DBC thanks outgoing members for the dedicated service. Finally, president P. Coleman presented the:
Lifetime Achievement Award
For exemplary service and dedication to cycling, the Davis Bike Club awarded its highest honor, the Lifetime Achievement Award, to Bruce and Marilyn Dewey. Bruce and Marilyn have led more than 25 Davis Bike Club tours in the United States and Western Europe. Bruce's service to the Club includes being Tour Director for four years. Marilyn held the club Secretary position on the Board for two years and led the Wednesday morning women's ride for four years. For as long as anyone can remember, the Dewey's have been ever-present as volunteers in morning registrations and rest stops in Club events. That experience has now been passed on to several generations of Club members who would never have been introduced to bike touring were it not for Bruce and Marilyn.
Marilyn and Bruce accepting the Lifetime Achievement Award from club president, Phil Coleman (photos courtesy of Russell Reagan):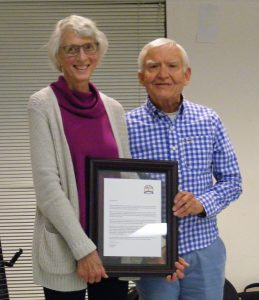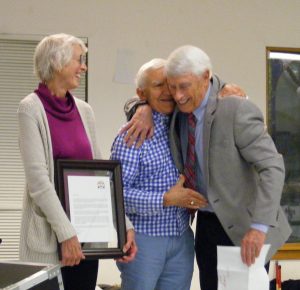 Dan Shadoan turning over the reigns of the Ultra Distance duties to Deb Banks: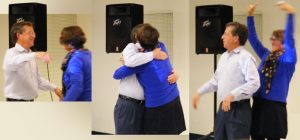 And more Holiday Party fun…