Annual event in which participants ride miles to raise funds for helmets for kids.
The 19th Annual March Bicycle Madness event is here!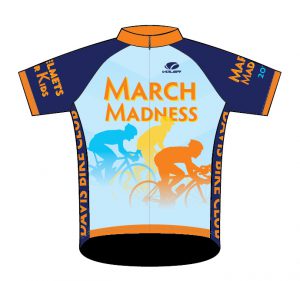 March Bicycle Madness means it's time to forget the winter weather and ride your bike. Choose your mileage goal and challenge yourself to ride your bike more than you thought possible – around town, around the county, around the world, for commuting, pleasure or any purpose. It's up to you! And know that all of the proceeds go to purchasing cycling helmets for school aged children.
The March Bicycle Madness event is open registration to everyone not just DBC members!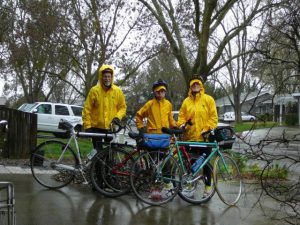 What is March Bicycle Madness and how does it work?
What's new for 2016: Registration fee will remain $15 for adults and free for kids under age 18 to encourage greater participation from adults and kids; two lower goal mileages, 10 and 50 appear on the tracker, to encourage kids under age 18 to ride.
Riders fill out an online application and pay a participation fee starting early in February. Riders set a mileage goal for the month of March. The minimum number of miles is 10 miles. There is no upper limit, and every year a handful of riders get up to and beyond 3,000 miles. Register for this event.
Riders then ride as much as they can during the month of March and keep track of all their bicycle miles online with the March Bicycle Madness Mileage Tracker.
The club then takes the entry fees and applies all the proceeds to purchase cycling helmets for school aged children.
Club volunteers travel (by bike!) to schools around Yolo, Solano and Napa Counties to hand out and fit the helmets to needy children who have been nominated by each school's staff.
The rider who puts in the most miles earns the awe of their fellow riders and their name is printed on the Annual MM Winners Banner.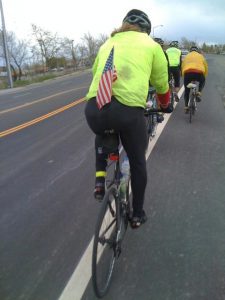 You do not need to be a Davis Bike Club member to participate, however, if you would like to become a member….Learn about membership here.
Are there any rules?
Mileage tracking is based on the honor system – on your honor you track and record the miles you ride. Please only use the tracker if you have paid the very nominal entry fee.
Indoor riding is limited to a total of 1000 miles, so spin classes, stationary bicycles, etc….
Indoor riding is also limited to 15 miles per hour on spin bikes, stationary bikes, etc…unless your stationary bike has an odometer that tracks actual miles per hour.
In addition to the opportunity to ride a lot of miles, March Bicycle Madness offers participants more
March Bicycle Madness Jersey – There is a unique March Bicycle Madness jersey available for purchase every year. Click here for more information on this year's jersey.
March Bicycle Madness Celebration – On Sunday April 24, from 6:00pm to 9:00pm, the club will hold the annual March Bicycle Madness Celebration formerly known as the MBM Banquet. Tickets ($5 for room rental) and can be purchased on the registration site for March Bicycle Madness from February 8th through March 31st. Limited tickets will be available at the door. Food and drink will be on your own. March Bicycle Madness Awards are given to top riders, all kids under 18, various other categories and photo contest winners. The annual March Bicycle Madness celebration this year will be held at Sudwerk Restaurant Banquet Room, 2001 2nd St., Davis, CA 95618.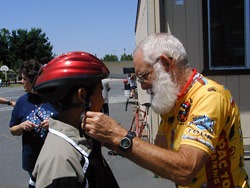 Get out and ride!
The full amount of your entry fee goes towards bike helmets and safety programs for kids. It's a win/win situation. You gain fitness, adventure, camaraderie and you save fuel. Kids get free helmets, delivered and fitted by the March Bicycle Madness Committee members and DBC volunteers, and we support bicycle safety.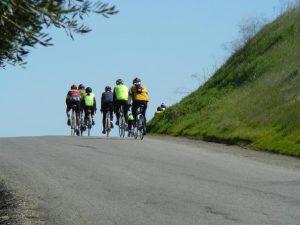 Any ride qualifies and there is at least one brevet in the month of March and several special March Bicycle Madness rides. So ride with the club, your family, your neighbors, alone, to shop, to church or for a haircut. Give the car a rest. You could even bike to school with the kids. However, be sure to wear your helmet. You don't even have to go outside – trainers and spinning classes qualify.
More Information
Register for March Bicycle Madness
Mileage Tracker
March Bicycle Madness Jersey
Questions?
Contact the 2016 March Bicycle Madness Chair, Dan Shadoan