These suggestions are for our members who wish to remain as safe as possible while continuing to enjoy cycling during this challenging time. Know that many of these considerations will likely change as guidelines, industry standards, and medical guidance evolves. These suggestions are based on Randonneurs USA and USA Cycling guidelines and recommendations, and are intended to:
Comply with all California state-level and county-level restrictions and orders.
Minimize the risk of spreading COVID-19 among riders and the communities where we ride.
Minimize proximity, direct contact, and indirect contact.
First and foremost, riders should know and abide by all local county health requirements and guidelines.
General Suggestions
Most Important​: if you are feeling sick, or have any cold- or flu-like symptoms, or have recently been exposed to someone with COVID-19, DO NOT ride or show up for a ride.
Masks must be worn:
Before the start of a ride and whenever riders are gathering and interacting with each other (Flat repair? Wear your mask.)
Anytime the rider goes into a business or public restroom.
Anytime when at least 6 feet of distance cannot be maintained. Always bring a face mask or other face covering.
In addition to masks:
Minimize stops in stores and businesses, and graciously respect the rules of the proprietors.
Be self-sufficient with food and drink, as well all tools, equipment and clothing.
Eliminate or minimize post-ride food or gatherings. Maintain at least 6 feet distance.
Carpooling, except with members of your own household/bubble, is not advised.
Have a back-up plan in case you have a major mechanical out on the road and you can't finish. Who in your bubble will you contact?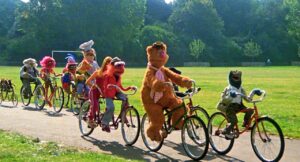 Cycling in Groups
OK, so I get what I need to do as an individual, but what about riding in groups? Know that:
Solo rides are safer than group rides. Group rides with people that you don't know are the highest risk and are not recommended.
All riders should be free of risk factors for contracting the virus. (People age 65+, those with pre-existing conditions or who are immunocompromised.)
Do not assume that another rider wants to ride near you. If you would like to ride with another rider, first ask them explicitly about their comfort level and work out a spacing distance with which you both are comfortable.
Limit the maximum number of riders in a group to your 'bubble' of family and/or friends with whom you are regularly in contact within COVID guidelines.
Ride as if you have the virus:

Assume that you have the virus and don't spread it to the other riders.
Wear a mask to prevent droplet spread.
Reduce droplets: if you have to sneeze, cough, or blow your nose, move to the back and ensure that no one is downwind.
Distance: ride side by side or more than 20 feet behind.

Ride as if other riders carry the virus:

Wear a mask to prevent you from touching your mouth, nose, face or eyes.
No contact: no passing of water bottles, food, etc.
Clean/sanitize your hands before eating, and your equipment after the ride. (Disinfectant wipes, soap and water, 70% isopropyl alcohol).

Consider ride types that limit the need to draft (e.g., MTB and gravel).Remember that this sport is for fun.
Be considerate, gracious and look after your fellow riders; keep everyone safe, have fun and enjoy the ride.