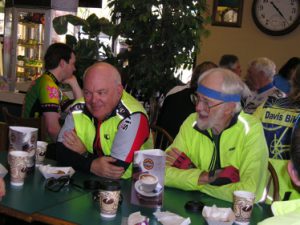 ON HIATUS — ANYONE INTERESTED IN LEADING THIS RIDE SHOULD CONTACT THE TOURS AND RIDE DIRECTOR
This leisurely-paced ride to Dixon begins at Lake & Russell (on the bike path).  A nice slow paced mid-week ride at 11 to 13 mph.
The ride continues on to the end of the Bike Path then turns left and continues south along Road 95A/Stevenson Bridge to Sievers, then doglegs over to Schroeder Road and continues south.  The route then turns left on Silveyville Road, right on Pitt School Road, and over Interstate 80 to the Solano Baking Company in Dixon for a snack.
After the break, the route works its way through the UCD campus to the area of Covell and Sycamore.
New riders are always welcome.  No one is ever left behind.
Ride Details
Description
A relaxed ride that stops in at the Solano Baking Company in Dixon.
Days
Wednesdays
Time
9:00am
Starts at
Lake & Russell (on the bike path)
Distance
27 miles
Terrain
T1 – Flat (Davis to Winters, Esparto, Woodland, Sacramento)
Pace
P2 – Tourist (9 to 12 mph). Stops as needed; waits for stragglers.
Ride leader
Contact email
Phone
Route maps