The Davis Bike Club has been involved in randonneuring for over 20 years and is steeped in the history of our sport and its growth in the United States. The DBC was the largest rando club to take riders to Paris Brest Paris in the early 90's and has been instrumental in supporting the growth of randonneuring nationwide. We have our many dedicated volunteers to thank for this and in particular, Dan Shadoan, who was the regional brevet administrator for over 10 years. Dan's leadership and guidance has helped 1000's of riders ride farther than they had thought themselves capable.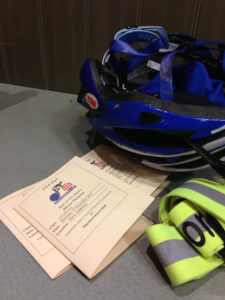 The DBC Spring Brevet Series is designed to prepare riders for successively longer distance events. Our brevets are for cyclists experienced in riding 100+ mile events and those looking for longer distance challenges, perhaps even joining the ranks of those who have completed Paris-Brest-Paris or other "grand randonnées" of 1200km or longer. PBP is coming up next year and that means that 2018 is the time to start working towards the "Great Dance". It is an amazing experience and if you have the interest to be at the start of PBP, then we'll do whatever we can to help you get there.
Every four years, the DBC hosts the 1200km Gold Rush Randonnée…and 2017 was the year! We had riders from around the world, many who succumbed to the heat, but other's who persevered. Gold Rush is on tap to run again in 2021 and plans are already underway.
In addition to our Spring Brevet Series, we offer several randonneuring events in the fall and winter seasons. This year is a special one as RUSA is having a birthday in August – 20 years – and every region in the country will be hosting rides to celebrate. Join us on August 19th for a fun day. Here's the entire list for 2018:
Sun, Jan 1, 2018: First Chance 200k (ACP)
Sun, Jan 1, 2018: Moskowite Populaire 103k
Sat. Mar 3, 2018: Pope Valley 200k (Legacy Series + ACP)
Sat. Mar 24, 2018: Cobb Mountain 300k (Legacy Series + ACP)
Sat. April 7-8, 2018: Lake Sonoma 400k (Legacy Series + ACP)
Sat. May 5-6, 2018: Antelope Lake 600k (Legacy Series + ACP)
Sun. Aug 19, 2018: RUSA 20th Birthday 200k, The Real McCoy
Sat. Sept 1, 2018: Calistoga Constitutional 200k (ACP)
Sat. Oct. 6, 2018: RUSA DART! 200k
Sat. Oct. 6, 2018: RUSA Dart Populaire 103k
Sat. Oct 27, 2018: RUSA Davis, Dunnigan & the Delta 300k
Sat. Oct 27, 2018: RUSA Colusa Tease 200k
Sat. Oct 27, 2018: RUSA Moskowite Populaire 103k
Sat. Dec. 31, 20018: RUSA Last Chance 200k
Sat. Dec. 31, 20018: RUSA Bella Bru Populaire 102k
Sun. January 1, 2019: First Chance 200k (ACP)
Sun. January 1, 2019: RUSA Moskowite Populaire 103k
The 2018 series registration form is here.
DBC brevets can be used as qualifiers for 1200km events in the US and around the world. For more information about those rides, and the many brevets being run throughout Northern and Central California, RUSA (Randonneurs USA) has a Rides section that sorts dates, distances, and locations for other brevet series in the region. DBC brevets can also be used toward qualifying for a variety of RUSA awards.
For the spring brevet series (200k, 300k, 400k, and 600k), rider control/time stations are 30-65 miles apart and are stocked with basic foods and beverages as part of the entry fee. DBC volunteers are on hand at remote controls, but otherwise, you are expected to be self-sufficient on your bicycle. Sag support for riders who DNF will be minimal, so come prepared to finish!
We expect all riders to be prepared for the weather, riding in the dark and to be safe. Please refer to the RUSA rules for more information.
Questions? Send em to the Regional Brevet Administrator (RBA), Debra Banks: rba@davisbikeclub.org
We look forward to seeing you on one or more of our brevets this season.