A short history of Foxy's Fall Century
Foxy's Fall Century dates back to the late 1960s when the Cal Aggie Wheelmen started an informal fall century ride along much of the same route.  When Davis Bike Club formed in the mid-1970s, many of its founders were part of the Cal Aggie Wheelmen.  These riders formalized the Davis Fall Century, a late-season ride that provides an opportunity to riders seeking a final long ride before the winter weather settles in.
Originally, the course ran counter-clockwise, the opposite of the last several years. In 2015 we returned to a more traditional route. It also included a climb over Cantelow Hill near the end of the course.
In 1978, Davis Bike Club changed the name of the ride to Foxy's Fall Century in honor of Ed (Foxy Grandpa) Delano.  Ed was well-known to Davis cyclists as a great ride partner and inspiration to younger riders. The original route was his favorite century route from Davis.
The current course runs counter-clockwise, and in addition to the 100 mile course, offers a metric century (100 kilometers) as well as a 50 kilometer family ride.  Over 1,500 riders participate in the ride every year, and around 150 volunteers dedicate their time to making the event one of the premier rides in California.
Ed "Foxy Grandpa" Delano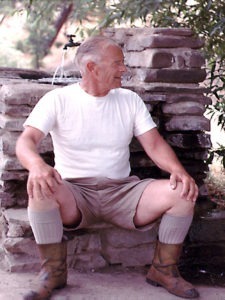 Foxy's Fall Century is named after one of the Davis Bike Club's early, influential leaders, Ed ''Foxy Grandpa'' Delano. Most of the Foxy's riders won't be anywhere near as old as Foxy Grandpa was when he hung up his cleats, at the tender age of 88. Those who are anywhere near that age owe a significant debt of gratitude to one of the sport's regional pioneers.
Ed  began riding recreationally after he retired from Caltrans, then known as the California Highway Department, and moved to Davis with his wife, Rosemond.  What started as a simple form of recreation quickly became a passion. While his cycling career blossomed late, it fully unfolded as he won four gold medals in Senior Olympics competitions, competed in the Veterans World Championships in Europe three different times, won numerous California and district time trial championships, and in 1988, broke the time trial record for his age group at the Veterans National Time Trial Championship.
Over these years, Ed completed four bike rides across the continental United States, perfecting his own system of ''plastic'' touring and camping:  relying on credit cards to provide sustenance and shelter during his long trips.  He was 75 years old in 1980 when he made his last cross-country trip to his college reunion in Worcester, Mass.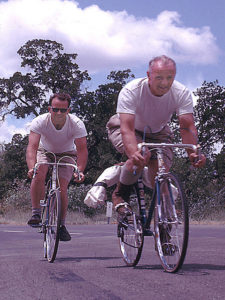 Ed rode in the first-ever Davis Double Century in 1970, earning the respect of riders very much his junior and cementing his nickname as  "Foxy Grandpa," coined in the article about the event in the Cal Aggie Bike Club newsletter published the following autumn.  He rode each of the first six DCs, becoming the oldest rider to finish in 1975, an honor he held until 1991 when Vedder ''Doc'' Wright of Davis became the first octogenarian to finish.
Ed was an active leader of the Davis Bike Club from its inception in 1976. He helped organize the ''Over the Hill Gang'' rides as regular activities on Tuesday and Thursday mornings, and rode with the old guys – still the best ongoing men's support group in the area – until he was well past 85.
Ed Delano was one of that small group of ''elderly'' folks who began turning the whole concept of retirement upside down in the early 1960s, primarily through their involvement in participatory sports.  He blazed a trail for a whole generation of increasingly older riders (and runners).  These older athletes have found a new dimension to their lives, at a point when they might have been considered too tired or too worn out.
Foxy Grandpa died Jan. 13, 1997 at the age of 92.  Shortly after his death, former Wheelworks owner Dave Petersen captured Foxy Grandpa's spirit in a memoir.  As Ed told Petersen in their last meeting, ''I guess I can't ride a bike anymore. I'd hoped I could ride a bike 'til I was a hundred.''
Foxy's is a Ride Through California History
Foxy's Fall Century is an annual event hosted by the Davis Bike Club. Riders have a choice of three courses: the traditional 100-mile century, a metric century (100 kilometers or 62 miles), and the Flat 50k ride. Though most riders don't realize it, all three routes pass through areas rich in California history.
Putah Creek
Riders on all three Foxy's routes travel along Putah Creek. The trip from Davis along Putah Creek Road to Winters is one of the most popular for local cyclists. It is one of the first long rides for new riders.
The word Putah comes from the Lake Miwok, puta wuwwe, which means "grassy creek." Mission records in San Francisco and Sonoma in the early 1800s list the names of natives of the area and spell Putah in various ways, such as "Putto," "Puttato," and "Putü." The Spanish called the creek "Los Putos," and in 1842, William Wolfskill named his land grant, which encompassed both sides of Putah Creek, "Rancho Rio de los Putos." The spelling we use today was first applied to the town of Putah which emerged around Elijah Silvey's hotel south of Putah Creek in 1853. Residents later changed the town name to Silveyville, but the spelling they used for Putah eventually became the standard.
Foxy's riders cross Putah Creek over Stevenson Bridge, a local landmark covered in graffiti. The bridge was built in 1923 and has been identified by the state of California as eligible for the National Register of Historic Places. It's one of only three bridges in California that utilizes an architectural design known as the overhead tie arch. Riders cross the creek again on the 1906 railroad bridge in Winters which has been converted to a bicycle/pedestrian bridge.
Putah Creek has suffered during the last 150 years as a result of the completion of Monticello Dam and other activities along the creek.  Recent environmental stewardship activities, including changing flows and making modifications to the channels and banks by groups such as the Lower Putah Creek Coordinating Committee, are gradually restoring important aspects of this valuable environment.
The Four "Ss"
Part of Foxy's Fall Century's 100-mile and 100km routes includes a path well known to Davis riders: a series of roads known as the "Four Ss." The roads are Stevenson Bridge Road, Sievers Road, Schroeder Road, and Silveyville Road.
Stevenson Bridge Road, an extension of Road 95a, is known for the iconic Stevenson Bridge. The road ends in the south at Sievers Roads, which 100-mile and 100k riders follow west for a short distance. Sievers Road was part of the Lincoln Highway, the first transcontinental highway, dedicated in 1913. Lincoln Highway originally turned south at Sacramento to get to San Francisco via Stockton because the Yolo Bypass was not passable by automobiles most months of the year. The Yolo Causeway, which was the first year-round passage between Sacramento and Davis, opened in 1916. Lincoln Highway was realigned to pass through Davis, and incorporate Sievers Road, in 1927. You can still see a Lincoln Highway marker at the corner of Russell and B Street in Davis.
Riders turn from Sievers onto Schroeder Road, which takes them south toward Dixon before turning west on the last of the Four Ss, Silveyville Road. On the southeast corner of the intersection of Schroeder Road and Silveyville Road stands a house built in 1873 by Joachim Schroeder. It is the last remaining structure of Silveyville, and is still owned by the Schroeder family.
Near this same corner stands a Pony Express monument memorializing Silveyville as a stop on the Pony Express. The town began in 1852 when Elijah Silvey built a corral and hotel and hung a red lantern to attract miners on their way up to the gold mines in the Sierra Nevada foothills. Silveyville, standing halfway between Benicia and Sacramento, was a natural Express stop. Silvey did not build his hotel as a Pony Express stop; Pony Express riders were supposed to ride a ferry from Sacramento to San Francisco, bypassing the area entirely. Occasionally, however, a rider missed the boat and would have to race to Benicia to catch a ferry from there.
The small town of Putah grew up around Silvey's hotel. Residents changed the name to Silveyville because Putah sounded like the Spanish word for prostitute.
The Pony Express ran from April 1860 to November 1861. During this time, Silveyville was a well established community with a store, saloon, school, two churches, a blacksmith shop, and homes for 160 residents. In 1867, however, the railroad track linking San Francisco to Sacramento was built just south of Silveyville along land granted to the railroad by settler Thomas Dickson. Dickson convinced the residents of Silveyville to relocate their town nearer to the railroad and the station on his land (misspelled as "Dixon"). Three years later, all of the buildings that could be moved were relocated, turning Silveyville into a ghost town.
There were a number of other small towns between Davis and Vacaville: West Plainfield, Allendale, and Buckeye to name a few. Most are now gone, and the area is primarily agricultural, giving riders miles of roads to ride with low vehicle traffic and minimum stop signs and traffic signals.
English Hills and Pleasants Valley
In addition to miles of farmland with relatively light traffic and few traffic controls, riders on the longer Foxy's routes get to ride through the rural English Hills. A little further on, the route passes through Pleasants Valley, which offers fifteen miles of beautiful rolling hills, orchards, and rangeland.
The northern portion of Pleasants Valley was part of the Wolfskill's Rio de Los Putos rancho. The English Hills and remainder of Pleasants Valley were part of the Rancho Los Putos grant given to Juan Felipe Peña and Juan Manuel Cabeza Vaca in 1843.
Since that time, Pleasants Valley has been a ranching and farming area. The open vistas and low population are two reasons it's such a nice area to ride through. In recent years, though, some Pleasants Valley ranches have been subdivided into "ranchettes," occupied by non-farming residents who typically discontinue agricultural use of their property.
Fortunately, at least two ranches dating back to the mid-1800s will stay whole. In 2004, the owner of Martell Ranch placed 535 acres under a conservation easement with the Solano Land Trust. The owners of the neighboring Hoskins ranch also granted a conservation to the Land Trust. Together, these two properties preserve nearly two miles of land adjoining Pleasants Valley Road as open land.
The 100k Foxy's route passes through these ranches. Not long after, riders cross the Edward R. Thurber Bridge. The bridge was built in 1907 by the Solano County Engineer Frank Alexander Steiger – whom Steiger Hill Road is named after. Steiger built the concrete bridge near the land of Edward Thurber who settled in Pleasants Valley in 1858. Thurber is credited with laying the foundation of the fruit industry of Vaca and Pleasants valleys. The bridge was renamed the Edward R. Thurber bridge in 2007.
Monticello
Lake Berryessa was created in 1957 with the completion of Monticello Dam on Putah Creek at Devil's Gate. The lake flooded Berryessa Valley, a ranching and farming region that dates back to the 1840s. It also flooded the town of Monticello, which now lies at the bottom of the lake.
Prior to the flooding, anthropologists found Miwok, Patwin, and Maidu artifacts. There is evidence of 100 to 150 Native American villages dating back 2,000 years. The modern history of the valley dates to 1843 when Governor Micheltorena granted brothers Jose and Sisto Berryessa (originally spelled "Berelleza") eight square leagues of valley lands bordered by the hills. Apparently, the Berryessa brothers liked to gamble; they lost some of the land that way and sold the rest of it to Edward Schultz to satisfy a debt of less than $2000. Schultz in turn sold the land in 1866 to a group of three men. These owners subdivided the valley into farms and set aside land for a town of Monticello.
Roads out of the valley were impassable when Putah Creek was swollen with rain. Napa County built a three hundred foot, three span stone bridge over the creek in 1896. At the time it was the largest stone bridge west of the Mississippi.
The area thrived as a major hub of agriculture. Nevertheless, the population of Monticello was smaller in 1950 than when the town was founded in 1867. In 1948, Solano County Irrigation District formed to obtain irrigation water from the damming of Berryessa Valley.
In 1953, construction of Monticello Dam began.  By 1956, all trees, homes, barns and other structures were dismantled, burned, or razed in preparation for the valley's flooding. Construction on the dam was completed in 1957, and flooding completed by 1959. The only structure still standing at the bottom of the lake is the stone bridge.
All photos courtesy of the Vacaville Heritage Council, except: Putah Creek, courtesy of Cary Craig; Stevenson Bridge, courtesy of Russell Reagan; Pleasants Valley courtesy of Anne Huber.