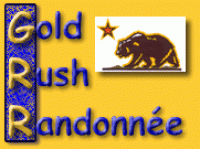 GRR 2022
(Here's a version of an article in American Randonneur (Fall, 2022 issue))
Gold Rush Randonnee Re-imagined, by Deb Banks
On June 4th at 10:47 PM, the last of the 1200k riders pedaled into the finish of the Gold Rush Randonnée, wrapping up two years of "angst-ing", planning, scouting and execution. Truth be told, I cried a bit at the end, because so many months had been focused on this event, and everyone had come back safe and sound. Yes, tears of joy and relief.
The Gold Rush Randonnee (GRR) was the first 1200k hosted on the West Coast in 2001 and has since been run every four years through 2017, when we skipped a year due to the pandemic. June 1-4, 2022 was the 6th running of the grand randonnee.
When I inherited the event from previous RBA Dan Shadoan, and had mentioned changing it up, he encouraged me to do so. "It's your event now. Do what you want." A small team came together: Bill Green, our Route Master; Gary Parsons, the Chef Extraordinaire; my Lieutenant and Scout, Mark Behning; and me, Chief GRR Wrangler.
(Photo: RBAs Dan Shadoan & Deb Banks conferring before GRR Liftoff. Credit: Deb Ford)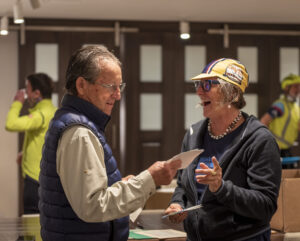 Planning began in 2019, looking at maps, thinking about where the coolest areas in the northern sierras were, and thinking about how to get riders to those beautiful spaces. Back in the day, the Davis Bike Club was one of the largest randonneuring clubs in the nation. These days, the volunteer base has dwindled, and so Bill and I spent time thinking about how to create a 1200k that didn't rely heavily on volunteers. I also wanted to hold onto many of the most beautiful sections of the old Gold Rush, while adding in other sections unknown to our randonneuring crowd. One other factor was the devastation from the Dixie Fire, which, in 2021 tore through much of Lassen National Park and the farther northern areas where I had hoped to send riders.
We decided on a cloverleaf route design, where riders would ride to Quincy, do two loops that returned to Quincy each night and then, head back to Davis. It had the look of a bow tie, with almost 40,000' of climbing plus riding at altitude for extended periods.
Bill took my initial ideas and worked out a 600k that ran from Davis to Quincy, CA, and then picked up the old GRR route down the Feather River Canyon to Oroville and back to Davis via the Central Valley. In 2021, we ran the 600k as a "proof of concept" and when riders told us how stunning the route was, we knew we had the gist of a viable plan.
Riders started in Davis and headed into the foothills of the Sierras traversing through horse farm country and across drainages to reach the S. Yuba River. Then, they followed the S. Yuba River drainage up past Downieville, known for its world renown mountain biking trails, to Yuba Pass, and then into Quincy which would be our Gold Rush HQ for the ride.
This past year, I have been spearheading the incorporation of gravel into RUSA events and just outside of Susanville is a Rails to Trails route called the Bizz Johnson Trail. The Bizz has a 3-4 % grade with a couple of tunnels to ride through while following the Susan River. I thought it would be great to add 17 miles of dirt into the route, and so it was incorporated into Day 2. From Quincy, riders would ride into Indian Valley, up to Taylorsville and Antelope Lake, following the old GRR route, over the steep and technical Janesville Grade and into Susanville where riders would then pick up the Bizz.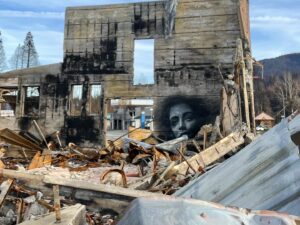 (Photo: Greenville, CA Spring 2022. Credit: Deb Banks)
I felt strongly about not having riders traverse through miles of scorched land from the Dixie Fire given that they were working hard and at altitude. The ride would be tough enough, why not try and make sure that the scenery was enticing, versus depressing? We ended up running the route down the unknown Mooney Road, then continuing adjacent to Lake Almanor, dropping back into Indian Valley with a return to Quincy.
We needed one more loop for Day 3 and decided to go into the Sierra Valley via Gold Lakes Road and Yuba Pass. Sierra Valley is a high-altitude wide-open expanse, known as the place where "spandex meets rawhide". The route circumnavigated the valley with spurs up to both Frenchman's Lake and Lake Davis (which was a must, given the name).
Bill tinkered with distances and was able to finalize both the 1200k and the 1000k. Mark Behning and I had scouted every inch of the entire route during the two years of planning. We were set, we'd run a 600k-1000k-1200k concurrently. Everyone would complete Day one together and then on Day 2, the 600k riders would return to Davis via the Feather River Canyon, Oroville and into the Central Valley back to Davis, while the 1000-1200k contingent continued to Indian Valley, Antelope Lake, Susanville and the Bizz. On Day 3 the 1000k riders would complete a short spur into the Sierra Valley, and then head back to Davis, while the 1200k riders completed the entire days route around the Sierra Valley. Finally, on Day 4, the 1200k riders would be Davis bound via the same route down the Feather River Canyon.
Mileages and elevation
| | | | |
| --- | --- | --- | --- |
| | 600k | 1000k | 1200k |
| Day 1 | 215 mi/16,650' | 215 mi/16,650' | 215 mi/16,650' |
| Day 2 | 164 mi/3725' | 173.3 mi/10,050' | 173.3 mi/10,050' |
| Day 3 | ~ | 234.1 mi/7900' | 180 mi/10,700' |
| Day 4 | ~ | ~ | 178.9 mi/3860' |
| Total | 379 mi/20,375' | 623.2 mi/34,600' | 747.7 mi/41,260 |
Having Quincy be the central location for the ride helped immensely with supporting riders. One dropbag location and all riders would be centrally located for the entire length of the event. This route is very remote, with no cell service, and so having "eyes on the riders" throughout GRR was an important safety feature. It was mandatory for all 1000k and 1200k riders to use a SPOT tracker, so we could keep track of everyone, which was helpful for the volunteers too.
Additionally, our fabulous chef, Gary Parsons could feed everyone in Quincy, and, well, let's just say, he pulled out all the stops. Gary set up an outdoor kitchen with two full sized stoves, a standard sized refrigerator, a freezer, a microwave and an espresso machine (with accompanying espresso cups)! Two canopies, tables, and porcelain dishes, plus real silverware (minimizing plastic waste) was used throughout the event. Gary was host, maître D, and head chef, providing full table service for tired, hungry riders and volunteers for both breakfast and supper.
It was a challenging set of routes, scheduled early in the season. Riders would need to bring their A game! Sadly, covid got in the way for several registrants and the final roster was split: half of the riders for the 600k and the other half for the 1000k – 1200k combined.
At 5:00 AM on June 1st, riders departed Davis, and headed to Sacramento and climbed up into the foothills. A handful of the riders on the 1000k and 1200k were tackling their first ride of this distance, which was impressive given the profile of the route. Everyone rode on their own through the foothills collecting receipts until Calpine, where they were given food, shoulder rubs, and a boost of good cheer from volunteers. Marco, the first rider to Quincy (in daylight no less), looked fresh, beaming, and chatty, declaring it a great day on the bike. Others coming in talked about how beautiful the route was while they sat and ate plates of Gary's beef bourguignon.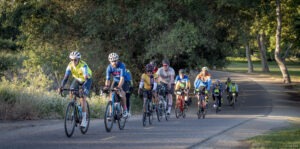 (Photo: Riders heading to Quincy. Credit: Deb Ford)
As expected, there were riders who scratched on Day 1. Heat on exposed climbs put many in the pain cave, and one rider arrived in Quincy deep in dehydration. Radiant heat reached at least 112 degrees, as evidenced by more than one Garmin. A plus about having Quincy as event HQ, was that riders who stopped after Day 1, could regroup, recover, and work out a plan to get back to Davis. Many rode back after resting for a day or explored parts of the route they wanted to experience, minus being on the clock.
The 600k riders departed for Davis on Day 2, while the 1000k and 1200k riders headed to Antelope Lake, Susanville, and the Bizz Johnson. Retired Davis RBA's Dan Shadoan and Daryn Dodge who created the original GRR, awaited riders at the Antelope Lake dam with encouragement and refreshments. Riders continued over Janesville Grade to Susanville, upon which they began the Bizz Johnson section. For sure, everyone was taxed by riding the Bizz, it slowed everyone down, but not enough to put anyone's ride in jeopardy. In fact, most everyone talked about it as a highlight of the ride. Eric, riding in vans, Carhart shorts and a T-shirt, really enjoyed the Bizz. He rides quite a lot of dirt, and this was just a part of another day on the bike.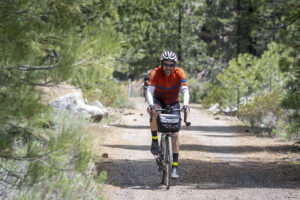 (Photo: Kevin Williams on the Bizz. Credit: Deb Ford)
Continuing onto the Lassen Highway, riders reached Mooney Road with lovely views, easy rollers and a downhill trend for the next 60 miles back to Indian Valley. Plus, there was a tailwind, which made up the time lost on the Bizz. Riders enjoyed this section, although Phil and Dee got stuck waiting for a train that seemed to take forever to pass. In Quincy, Gary and Bill were ready for everyone with a hearty plate of food and good cheer.
Often on 1200k grand randonnee's if the rider makes it through Day 1 and 2, it is highly likely that they'll make it through the rest of the ride because the route eases up and has less climbing, giving riders some active recovery as they tick off the miles. GRR's Day 3 was long for both the 1000k riders and the 1200k riders. The 1000k riders rode a short spur to Portola and then after swinging back through Quincy, they headed down the Feather River Canyon following the same route back to Davis as the 600k riders. The 1200k riders would work their way up and over Gold Lakes Road, the high point of the ride at just shy of 7000' and then drop into the Sierra Valley for the circuit around the valley plus the climbs to both Frenchman's Lake and Lake Davis.
Jasmine, a rider on the 1000k roster, sat down to eat and demanded to know who had started the rumor that she wasn't going to finish the ride. Jasmine is relatively new to randonneuring and she has what it takes: strong riding, coupled with a good attitude. That said, Day 3 can bring out weird things from riders who haven't been sleeping much.
"Who started the rumor?" she wanted to know, but none of us at GRR HQ knew what she was talking about. "Whoever it is, doesn't know me, and do you know why?" Before we could respond Jasmine is thrusting her phone showing it to us. "This is my Iphone, and do you know what happened?" Before we could answer she continues, "It fell out of my pocket yesterday… into a porta potty." Eeeewwww! There's more: "And you know what? I FISHED IT OUT! So, if anyone is doubting me finishing this ride, think again. If I would fish my Iphone out of a stinky porta potty, then I will get this 1000k done!" Once the laughter died down, we urged her to get rolling. Jasmine finished with plenty of time to spare.
(Photo: Jasmine shows us her Iphone! Credit: Deb Banks)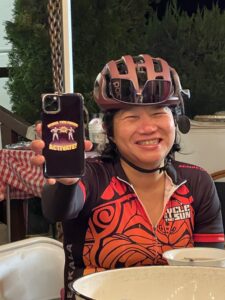 The 1200k riders took off early to reach the top of Gold Lakes Road for sunrise.  James, another first time 1200k rider, spent time to check out the lakes dotting Gold Lakes Road, chatting with local fishermen, while Mike stopped to lay in a snowdrift and make a snow angel. Charlie and Kevin were farther up the road, all business and efficiency. They took a bit of time at Frenchman's Lake with the volunteer dream team, tanking up before riding to Lake Davis and then back to Quincy.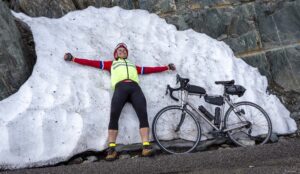 The wind kicked up in the Sierra Valley, and riders were feeling the accumulated burn of lactic acid and general exhaustion. Still, riders kept a steady pace, relentless forward movement. Often on Day 3, you are already thinking about Day 4 and the final miles home. Spirits rise and often riders "relax" knowing that the last day will not be as tough… if all goes well.
"When are you leaving for Davis?" I ask.
"2:00 AM" say Charlie and Kevin. They rode the 600k in 2021 and know how hot and windy it can be in the Central Valley in the afternoon.
"We're leaving at 7:00 AM" says everyone else, except James who will leave at 9:00 AM. Sounds fine on paper. The ride is mostly flat or downhill. Plenty of time to get to Davis before 11:00 PM.
(Photo: Mike Sturgill cools off on Gold Lakes Rd. Credit: Deb Ford –>)
Like many rando mornings, the sun rises, and everyone is gone. At this point, 10 riders are on the route, everyone else has either completed or abandoned. After an espresso, Gary, Bill, and I pack up and clean the area where we've been feeding and caring for people for the last three days. We pack the stoves, refrigerator, and freezer in Gary's truck, all the dishware, silverware, cooking pots and storing containers in his teardrop trailer, and everything else went into Bill's truck. We take a quick selfie, exchange big hugs of thanks and go our separate ways. The parking lot of the Gold Pan Lodge is returned to normal. This rando circus has left Quincy.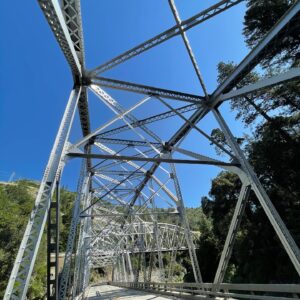 (Photo: Tobin Bridge, Feather River Canyon, Credit: Deb Banks)
The Feather River Canyon has always been a feature of previous GRR's and is a stunning canyon with steep sides and train tracks perched high on the side of the canyon. When the river is flowing at peak levels, it is a kayaker's dream. Bridges and tunnels support the two-lane narrow road through the canyon. The Dixie Fire made its way into the Feather River Canyon burning much of the forest in the upper portion of the canyon. Three years ago, the lower part of the Feather was hit by the same fire that engulfed Paradise. Last winter, the road was closed for months due to a rockslide from erosion caused by the fires. On June 4th, the canyon had sunshine and was dry making for a great ride to Oroville which ushered riders into the Central Valley.
I get a text from a rider.
"We're stopping in Oroville, what's the best way back to Davis?"
"Is anyone hurt?"
"Nope."
"Then the best way is riding," I say.
They choose something else.
Uber.
I descend the Feather and sweep the course checking in on riders and volunteers. As is typical, there is a headwind in the Central Valley and it's warm. It is not the "easy Day 4" that riders had hoped for yesterday.
By the time I reach Davis, Charlie and Kevin have finished, have showered, and are tackling their calorie deficit with more food. Given their early departure from Quincy, they missed the headwinds that everyone else was battling. We settled in to wait for everyone else to arrive.
Throughout the evening, we followed the "Rando-dots" as riders approached Davis. We'd run outside and cheer them as they successfully finished, then take their bikes and return to the conference room to collect brevet cards, to eat, and share post ride stories. Everyone was in except two riders and the countdown to the finish was on. Like watching a pot that wouldn't boil, it seemed like the Rando-dots attached to Chris and John weren't moving.
With 13 minutes to spare, the Lantern Rouges arrived, after a mechanical within the last hour of riding. Everyone was in. Woohoo! And that's when I quietly wept.
(photo: Lantern Rouges, Chris & John at the finish! Credit: Deb Ford)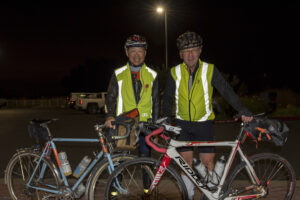 Not a week later, a large rainstorm caused a huge rockslide closing the Feather River Canyon once again. Mike sent me an email summing up the event, "Fantastic course, amazing food. Best 1200k ever." Gary, Bill, and I are already thinking about another Sierra adventure for 2024. Randonesia has set in amongst our merry band of organizers.
~~~~~ End~~~~~
GRR 2013
Links to finish stats and photo collections from the fourth running of this 1200km event.