The Davis Bike Club has been involved in randonneuring for decades and is steeped in the history of our sport and its growth in the United States. The DBC was the largest randonneuring club to take riders to Paris Brest Paris in the early 90's and has been instrumental in supporting the growth of randonneuring nationwide.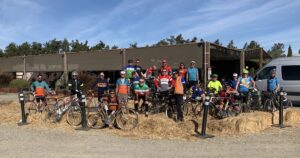 The DBC Spring Brevet Series is designed to prepare riders for successively longer distance events. Our brevets are for cyclists experienced in riding 100+ mile events and those looking for longer distance challenges, perhaps even joining the ranks of those who have completed Paris-Brest-Paris or other "grand randonnées" of 1200km or longer. Paris Brest Paris was held during the third week in August 2019 and that means that now is the time to start working towards the "Great Dance" in 2023. Close to 7000 of your closest rando-pal's from around the world will be making the trek to Brest and back. It is an amazing experience and if you have the interest to be at the start of PBP 2023, then we'll do whatever we can to help you get there.
Every four years, the DBC hosts the 1200km Gold Rush Randonnée…one of the longest run 1200ks in the United States. Plans are already underway with a route change and possibly a few surprises. If you've ridden GRR before, you may want to take another look as we are freshening up the route.  Gold Rush is on tap to run again in 2021 and plans are already underway.
In addition to our Spring Brevet Series, we offer several randonneuring events in the fall and winter seasons. This year, we'll once again hold a Vintage Populaire. In 2019, we hosted the first annual Vintage Pop with a great turnout. Riders from across NorCal came out to enjoy each other's machines from the Golden Age of steel while riding around our area. We stopped at Berryessa Brewing for some libations too. Bonus! This year, we are also offering a few rides from the Fresno region. We'll be holding the Bass Lake 300k in March and a double brevet weekend that goes from Clovis into King's Canyon National Park in September. The 200k will end at a campground, and after a fun night there, we'll ride back out and return to the start. Camping gear will be needed but we'll shuttle it in and out for you, so you can ride.
Davis will also hold a Dart 200k and a Dart Populaire in October. Gather a team, create a route, ride it, and end up at a brewery with all of the other teams to share stories of the day while enjoying some refreshments!
Davis is proud to be a part of the NorCal Brevet Week, which will be a challenging and fantastic week of randonneuring.  A series of ACP qualifying rides for PBP will run point to point: San Francisco (300k), Davis (200k), Santa Rosa (400k) and Humboldt (600k); each one bringing you the best of NorCal roads. All of the routes are near a train, bus or airport so you can pick – do one, a few, or all of them. Luggage will be forwarded daily. An interest list and more information can be found here.  Want to get ready for a big rando-challenge? This is your week!
Due to the CO-VID 19 Pandemic, ALL RANDO EVENTS are currently POSTPONED until further notice.
Here's the line-up and sign-up for 2020: 
Jan. 1, 2020: First Chance 200k (ACP)
Jan. 1, 2020: Moskowite Corners 103k (RUSA)
Feb. 2, 2020: Super Bowl Sunday 100k (RUSA)
Feb. 29, 2020: Pope Valley 200k (Legacy Series: ACP)
Mar. 28, 2020: Bass Lake 300k (ACP)
Apr. 18, 2020: Cobb Mtn 300k (Legacy Series: ACP)
Apr. 18-19, 2020: Cobb Mtn 400k
May 2-3, 2020: Lake Sonoma 400k (Legacy Series: ACP)
May 23-24, 2020: Davis 600k (Legacy Series: ACP)
May 30-31, 2020: Double Brevet weekend: Kings Canyon
Sept. 20, 2020: Brevet Week, Davis 2 Santa Rosa 200k
Oct. 10, 2020: Davis Dart 200k and Dart Pop 100k
Oct. 24, 2020: Davis, Dunnigan & the Delta 300k (RUSA)
Oct. 24, 2020: Colusa Tease 200k (RUSA)
Oct. 24, 2020: Moskowite Corners 103k (RUSA)
Nov. 14, 2020: Vintage Pop: Elmira Ramble
Dec. 31, 2020: Last Chance 200k (RUSA)
Dec. 31, 2020: Last Chance 102k (RUSA)
Jan. 1, 2021: First Chance 200k (ACP)
Jan. 1, 2021: First Chance 103k (RUSA)
DBC brevets can be used as qualifiers for 1200km events in the US and around the world. For more information about those rides, and the many brevets being run throughout Northern and Central California, RUSA (Randonneurs USA) has a Rides section that sorts dates, distances, and locations for other brevet series in the region. DBC brevets can also be used toward qualifying for a variety of RUSA awards. Awards can be earned in two ways by riding brevets. If the ride is marked ACP, then that ride is available for Audax Club Parisian and RUSA awards. If it says RUSA only, then it is only available for RUSA distance awards. In order to qualify for any awards, you must be a member of Randonnuers USA.
For any brevets (200k, 300k, 400k, and 600k), rider control/time stations are 30-65 miles apart and are stocked with basic foods and beverages as part of the entry fee. DBC volunteers are on hand at remote controls, but otherwise, you are expected to be self-sufficient on your bicycle. We expect all riders to be prepared for the weather and for riding in environs with rough roads and riding in the dark. Please refer to the RUSA rules for more information. Sag support for riders who DNF is minimal at best, so come prepared for all types of terrain and weather and be committed to finish.
Questions? Send em to the Regional Brevet Administrator (RBA), Debra Banks: rba@davisbikeclub.org
We look forward to seeing you on one or more of our brevets this season.