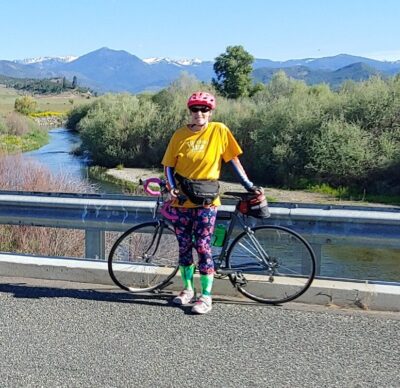 Bicycle touring is a popular activity offered by the Davis Bike Club, where we enjoy scenic travel, cycling, and social interaction. Our tours have ranged from overnight trips in the local region to excursions to foreign countries. Some have been self-supported; others have included SAG support. Routes may be linear, looped, or "hub tours" where daily rides depart from the same location.
DBC emphasizes safety, comfort, and security on club tours, on routes that are appealing to cyclists in terms of scenery and road safety. To the extent possible, tour accommodations are bike-friendly and support the need for overnight bike security. Tour leaders brief riders on known hazards, route turns that may be easy to miss, public restrooms, places to eat, and points of interest along the route. Route information is provided using the Ride With GPS app.
Club membership is required to sign up for a DBC tour. Active participation in annual DBC events staffed by volunteers is expected of tour participants.
The Club is most receptive to ideas for future tours from anybody inside or outside the organization. Tour organizers are volunteer members of DBC, thus we rely on volunteers to make our tours happen. We are always looking for new tour leaders and past tour leaders are available to guide anyone new to this role.