A casual ride to Winters via County Road 29 and Buckeye Road, roads with light traffic. Coffee/snack/brunch options in Winters at Steady Eddy's. The group may break up somewhat before heading back to Davis via Putah Creek Road and the Russell bike path.
This is a relaxed pace ride and newcomers are welcome. No one will be left behind. 
Ride start location: east side of office buildings at 2062 John Jones Road just north of Starbucks in West Davis. The east side of the buildings face the freeway, with a small parking lot.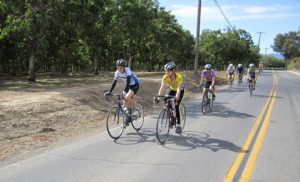 Ride Details
Description
A moderate paced ride to Winters via County Road 29 and Buckeye Road. Coffee break (or optional brunch) at Lester Farms Bakery.
Days
Sundays
Time
10:00am
Starts at
2062 John Jones Road (parking lot of business park just north of Starbucks)
Distance
31 miles
Terrain
T1 – Flat (Davis to Winters, Esparto, Woodland, Sacramento)
Pace
P3 – Moderate (12 to 16 mph). Solid riders; regroups every 45 min.
Ride leader
Contact email
Phone
Route maps