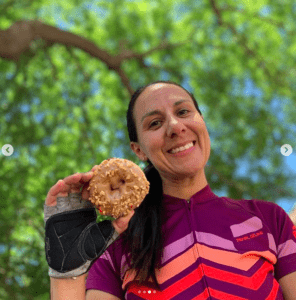 The tally of Fritter Points has been conducted, reviewed, recounted, audited, re-audited, certified, and finally deep-fried and the results are in: LemonTart is Grand Beignet of the 2021 Tour de Fritter! The final overall results can be viewed here; the final daily values can be viewed here.
LemonTart overcame a slow start, gradually picking up momentum, devouring fritters competitors in her path, and putting her stamp of authority on the peloton in the final days of the Tour. Though a few contenders tried to challenge her, in the end none could match the sheer will and determination, to say nothing of her apparently cast-iron belly. During the course of the 17-day Tour she totaled 33 donuts, 1 fritter, 2 fries, and 3 other deep-fried gut-bombs, not to mention riding 468 miles. Truly astounding!  As Grand Beignet, she will be awarded le Maillot Gras and other assorted items of value mined from Le Directeur's garage. We salute you, LemonTart! Brava!
While LemonTart's victory is one for the ages, we would be remiss if we did not acknowledge the dismal failure of the rest of the field and the utter disappointment we feel at their lack of quality. Particularly lacking was Team V, who managed to finish with -5 fritter points. It was a clear attempt to "race to the bottom" to "earn" the Lanterne Rouge, or "Beignet Infime." While we were entertained by Team V's creative posts, we cannot bestow such a prestigious award upon one who does not even try to fritter. To that end, this year we have implemented a new rule establishing an "Outside Fritter Limit," or OFL, pronounced "awful," which is 10% of the Grand Beignets total FPs. For 2021, the OFL is 64 FPs, with the result that "I'm going to need a bigger bike" is the 2021 Tour de Fritter Lanterne Rouge. From his minuscule Fritter Point output to his white cycling shorts his performance was detestable; not OFL, but a truly awful performance. Bad show, "bigger bike."
And there you have it – the 2021 Tour de Fritter is a wrap. Congratulations again to LemonTart and all the others who attempted, however feebly, to keep up with her.  We thank all this year's participants and competitors. We cannot guarantee when the next Tour de Fritter will be scheduled or what form it will take, but Le Grand Spectacle will return! So keep up your training, fritterneurs and fritterneuses – as we like to say, you can't come out and fritter the day away: it takes practice!
Until next time – adieu!
Le Directeur