Congratulations to all 72 participants of the 2023 March Bicycle Madness! This year's mileage total is a breathtaking 26,721 miles — around the world and then some! Whether or not you met your mileage goal, we bicycled farther than most of us thought possible, despite several days of nasty weather.
Following is the information that appeared on this page prior to this year's event…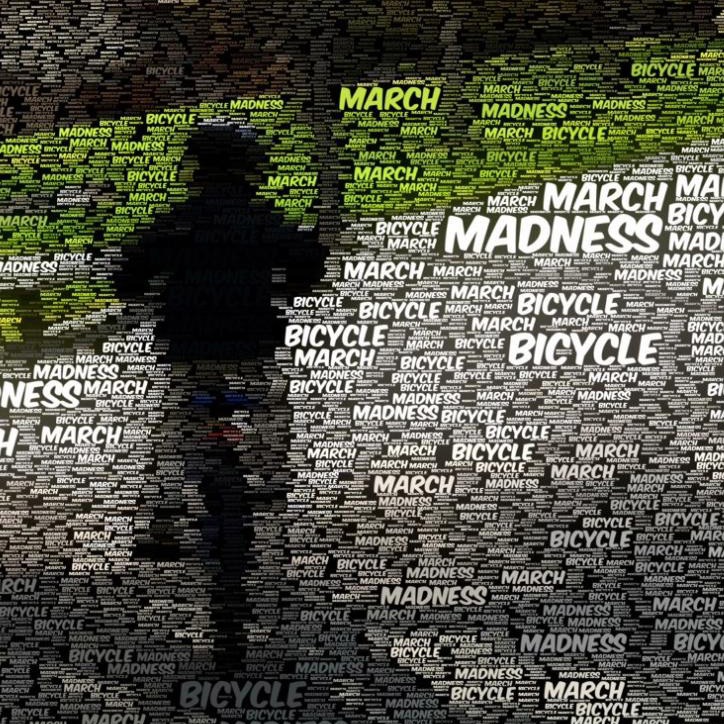 March Bicycle Madness means it's time to forget the winter weather and ride your bike. Choose your mileage goal and challenge yourself to ride your bike more than you thought possible – around town, around the county, around the world, for commuting, pleasure or any purpose. It's up to you! In addition to having a motivation to ride there are also benefits to joining into March Madness. A portion of your entry fee will be used to support bike education in local schools. All participants will also receive a handsome March Madness t–shirt.
What is March Bicycle Madness and how does it work?
Riders fill out an online application and pay a participation fee starting early in February. Riders set a mileage goal for the month of March. Registration fee is $25.00 for adults and $11.00 for children. The minimum number of miles is 10 miles. There is no upper limit.
Riders then ride as much as they can during the month of March and keep track of all their bicycle miles online with the March Bicycle Madness Mileage Tracker.

To make sure all participants are covered by our insurance policy, we are requiring all March Madness
participants to be Davis Bike Club members. Learn about membership here.
Please remember…
Mileage tracking is based on the honor system …on your honor you track and record the miles you ride.
Please only use the tracker if you have registered and paid the entry fee.
Indoor riding is limited to a total of 1000 miles, so spin classes, stationary bicycles, etc… Indoor riding is also limited to 15 miles per hour on spin bikes, stationary bikes, etc…unless your stationary bike has an odometer that tracks actual miles per hour.
Get out and ride!