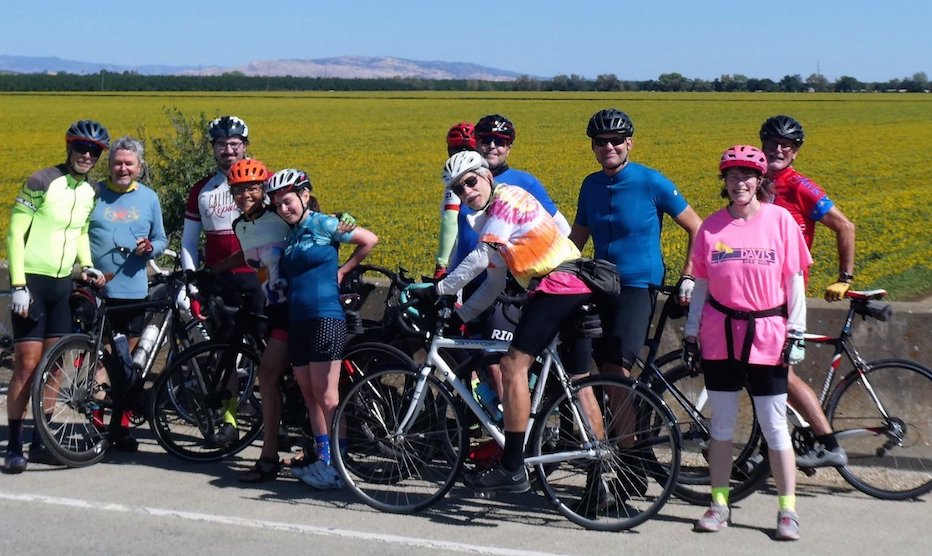 The Bike Campaign (a local organization closely affiliated with the Davis Bike Club) launched the WOW! Rides in the Summer of 2021 to encourage more women to ride their bikes. WOW! stands for Women on Wheels. The group rides are led by experienced bike guides, and participants learn the rules of the road and safety tips. They become familiar with group riding dynamics and local bike lanes and paths – all while having fun and meeting other women interested in bike riding.
"WOW! & Anyone Who Wants to Join Us" in 2022 teamed up with the Davis Bike Club to create more opportunities for new riders, many of whom can ride only on the weekends, to experience the joys of group riding. WOW! rides occurred on two Saturday mornings each month, departing from the South Davis Nugget parking lot on Cowell Blvd. Distances of rides have ranged between 20 and 30 miles with a comfortable pace of 12-16 mph with stops for regrouping and a snack break, usually at a café or bakery.
Current information about WOW! ride times and dates can be found in the DBC ride calendar. Currently WOW! rides occur on the second or the fourth Saturday of the month (sometimes both), weather permitting.
There are many reasons a woman may choose to ride her bike, including exercise, leisure activity, and a means of transportation. Riding a bicycle can bring a sense of freedom and empowerment. People on two wheels influence the habits of their children and grandchildren, spouses and life partners, and neighbors. Many of us can choose to forego the car when driving kids to school or going to work or shopping and instead opt for the bike, serving as a role model to the community at large.
One Saturday morning, a group of 12 riders gathered for a delightful WOW ride to downtown Dixon with a new stop at a local bakery. There were smiles, laughter, instructions, questions, encouragement, empowerment, and learning as three flats were repaired on the return ride.
Those who are new to group riding can contact Davis Bike Club, Outreach Director Maria Tebbutt at funmaria@sbcglobal.net or visit The Bike Garage at the Cannery on Saturday mornings 9am-noon or Wednesdays (see TheBikeCampaign.com for current hours) for free bike/helmet inspections and instruction on how to use a bike pump, lube chain, and adjust brakes. WOW rides are limited to twenty riders to ensure safety and personalized attention. For more information about how to "Bike More. Drive Less.", contact Maria Contreras Tebbutt at funmaria@sbcglobal.net or www.TheBikeCampaign.com.