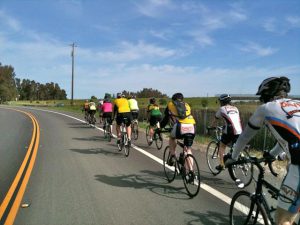 Links to maps and cue sheets for most recurring DBC rides.
The Davis Bike Club offers rides just about every day of the year.  Here you will find links to maps and cue sheets for most of those recurring weekly and monthly rides.  Use them to get a preview of a ride you plan to join. Or enjoy exploring one of these well-traveled routes on your own.
If you're interested in joining any of these regular rides, click on its name to go to a more complete description of the ride.  The pace and route of the ride may change to suit the weather or the needs of the particpants.
Day
Name
Refueling stop
Miles
(as mapped)**
Terrain
RWGPS Link
Monday
Woodland or Esparto
Morgan's Mill or Hog Canyon
26 or 50
flat
Tuesday
Solano Ride
Common Grounds
34
flat
Route map
Wednesday
Winters
Steady Eddies
26
flat
Route Map
Thursday
Woodland
Morgan's Mill
35
flat
Route Map
Saturday
3 Bumps
Winters
50
climbing
 Route Map
Saturday
Saturday
** The ride leaders or participants sometimes alter the route to suit their needs on a particular day.
Disclaimer:  Bicycle riding comes with inherent risk.  All maps, rides and other documents listed here are for informational purposes only. The Davis Bicycle Club and the authors of any maps assume no liability for the information provided.  Research the local riding conditions before you embark on a ride.  Road conditions, weather conditions, and traffic densities vary constantly.