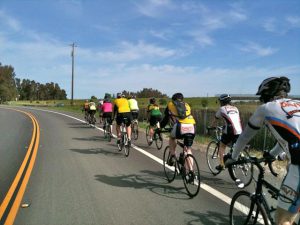 Links to maps and cue sheets for most recurring DBC rides.
The Davis Bike Club offers rides just about every day of the year. You will find ride descriptions, route maps** and cue sheets, and start locations and times on the Events Calendar. Use them to get a preview of a ride you plan to join. If you're interested in joining any of these regular rides, click on its name to go to a more complete description of the ride. Or enjoy exploring one of these well-traveled routes on your own.
The pace and route of the ride may change to suit the weather or the needs of the participants.
** The ride leaders or participants frequently alter the route or exact rest stop location depending on the weather (wind!), any known unsuitable road conditions, general curiosity, etc.
Disclaimer: Bicycle riding comes with inherent risk. All maps, rides and other documents listed here are for informational purposes only. The Davis Bicycle Club and the authors of any maps assume no liability for the information provided. Research the local riding conditions before you embark on a ride. Road conditions, weather conditions, and traffic densities vary constantly.